Hope to prevent GMO's insidious invasion in to our lives. What's to hide Monsanto?
Mountain★Republic
Christina Sarich
Natural Society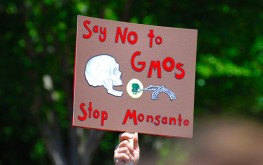 Will Vermont be the first state to pass an active mandatory GMO labeling bill? The House of Representatives decided to let its original GMO labeling bill stand, and instead of nitpicking its details in a Vermont Senate conference, sent Bill 112 straight to Governor Peter Shumlin's desk this past week with a 114-30 vote.
If Shumlin follows through with his promise to sign the bill, Vermont will make history by becoming the first state to successfully stand up to Monsanto, Dow, Bayer, Syngenta, and the biotech corporations who have pumped millions into the anti-labeling campaign. On its own state authority, regardless of FDA recommendations or Big Ag propaganda, Vermont GMO products will have to contain labeling which admits 'this food contains ingredients that were subjected to genetic engineering'.
Of course, the Grocery Manufacturers Association (GMA) is against the bill. A spokesperson for the association said the…
View original post 255 more words