Mountain★Republic
"Did you see her collar fly off when I shot her? That was awesome!"
Adan Salazar
Infowars.com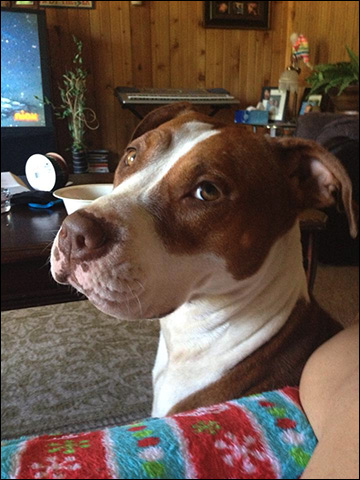 Pit bull dog, "Cali" / Image: Facebook
An Oklahoma police officer shot and killed a family's dog and later laughed about it to a responding animal control unit, reports claim.
On Wednesday, Ardmore resident Sarah Jo Ellen Brown reportedly arrived home to news that her family's pit bull dog "Cali" was dead.
"When the owner, Sarah, got there, the officer said, 'We shot your dog, she's dead," a Change.org petition launched in Cali's honor states.
According to multiple sources, Ardmore Police Sergeant Brice Woolley responded to a call regarding a dog that had escaped and was wandering the neighborhood.
"I'm not waiting for animal control," Sgt. Woolley allegedly stated as he grabbed his shotgun to confront the doomed pooch.
As pictures show, Sgt. Woolly, who works the day shift patrol in Ardmore, next…
View original post 356 more words